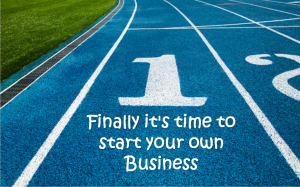 A number of us are faced with a dilemma. Should I quit my secure, well-paid job in order to run my own business with all the risks associated with striking out on your own? Or should I continue working for an employer that guarantees me not only a salary cheque every month but also a constant feeling of dissatisfaction, regret and wonder about what life would be like as my own boss?
A while ago I wrestled with this dilemma myself, and finally decided to hand in my notice at work to concentrate on making a success of Career Coaching Ventures. Having gone through this experience, I would like to share some practical tips on making this crucial decision and smoothing the transition phase as much as possible.  But before I continue, let me tell you – it was one of the most agonising decisions I have ever had to make!
So here are some of my tips:
Allocate enough time to have a proper think about the reasons why you would like to leave your employment to start your own venture. This is crucial as you will need to identify the main reasons and then approach your employer to discuss your concerns. You may, for instance, be unhappy as you think you deserve a promotion or you may feel you can't progress any further in your job. Or you could be plain bored and just need a complete overhaul of your career. If you have brought up your key areas of concern and made sure your employer has had enough time to consider them, but you still feel they have not been addressed – then it may be time to go and start on your own (here we are not discussing the alternative of switching employers). It is also worth considering what life-work balance you would ideally like to have and how running your own business can help (or hinder) you achieve it.
 'Cover your bases' ahead of your resignation and have all your business basics in place (better still, though more challenging, would be to find the time to run your business parallel to your day job to prove that the concept works). Test the ground, do your market research to ensure you identify your target audience, how you are planning to reach them and that there is an actual demand for your services. 'Test drive' your business for a least a couple of months before you take a step towards quitting your main job. Depending on your line of business, you may want to run surveys to understand the demand among your friends and other networks to test whether the concept is viable and if it is actually going to work. And of course, once you have done this, thank people for their time.
Create a strong support network around yourself – your family, close friends, people you trust. Share your thoughts, your business idea, ask for their feedback. This will help you gauge whether you are making the right decision. But ultimately, you are the one who is going to have the last say so make sure you are prepared and well-informed. Difficult decisions become so much easier when people around you support and encourage you to take this important step. Don't do it in a vacuum – you may regret it later.
And finally, once you have gone through steps 1 to 3 and are content and sure it is a right decision (although of course, some doubts are bound to be still lingering at this point) – then just go for it! Be bold, hand in your notice and set yourself going on the path to running a successful business. Don't look back!
I will be interested to hear about your experience of setting up on your own and having to quit your day jobs to dedicate time to your business.