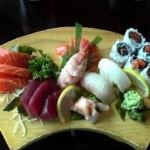 Lunchtime interviews are becoming more popular among hiring managers as they provide a glimpse into candidate's personality and social skills in the more relaxed setting of a restaurant, café or bar. Perhaps more relaxed for the recruiter than for the stressed job candidate facing the daunting prospect of having lunch with somebody they would often not imagine even having a drink with! This latest blog in our job Q&A series offers some tips for how to perform in this challenging interview setting.
You can make your life much easier if you prepare for this interview in exactly the same way you would prepare for a usual 'office' one. However, in this case pay even more attention to researching the personal profile and background of your interviewer. It would be even more ideal if you can source such information on things like their hobbies, travel destinations, family, preferred food etc – in other words, more on a human side of the interviewer. Once you have this information at your disposal, you can drop it in during the discussion where appropriate or use it as an ice breaker at the beginning of the meeting, for instance, commenting on the interviewer's choice of venue. Lunchtime interviews tend to involve more discussion on everyday issues so it is worth being updated on the latest news in your field and more widely. Once a client of mine was being interviewed by a banker at a café in Canary Wharf and he was asked about the latest political events in the UK and globally and only after about half an hour of the discussion about politics, the interviewer moved onto the promised case study analysis. After the interview, the banker confessed that politics had always been his passion and that he tended to prefer candidates with in-depth knowledge of the subject.
It may make sense for you to visit the place prior to the meeting to make sure you know the atmosphere, layout and dress code to prepare yourself mentally beforehand. You can even check out the menu in advance as well and decide on what dishes you are most likely to order. No matter what you order, make sure you avoid things that are difficult and messy to eat and stay away from alcohol unless your interviewer insists you order a glass of wine for instance. A safe and neutral choice of a drink at a lunchtime interview is water so you can always order it if unsure.
When you are invited for a lunchtime interview, the interviewer will pay for your lunch in the majority of cases so it is important not to forget to thank them at the end of the meal for their time and for lunch itself. When writing a follow-up email, don't forget to thank the interviewer for lunch and a stimulating conversation again. I once knew someone who attended a lunchtime interview and projected such a positive impression that the interviewers made up their minds there and then on inviting him for the next round. They even shared their decision with him once the lunch was over. The candidate was so excited that he shook hands with his interviewers and completely forgot to thank them for the meal and their time. The next day he got a call saying they had decided to go with someone else and when the distraught candidate emailed one of the interviewers to find out the reason why, he received a simple response – no thank you at the end of the interview.
Keep in mind they are observing you at all times, so be very polite in all circumstances, such as thanking the waiter, and concentrating on the person in front of you more than on the food itself (I know it can be difficult especially if the food is nice and tasty!). I suggest taking a notepad with you and taking notes while speaking to the interviewer. When you are eating you can keep the notepad next to you.
In addition to the advice above, don't forget to have fun at your lunchtime interview. Even if you don't get the job, at least you can get a nice meal out of it.
I would love to hear your stories about lunchtime interviews you may have had and your personal tips on how to succeed at them.