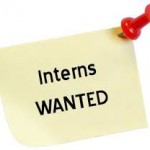 On the 13th August 2014 I was part of the expert panel for the Guardian Careers on finding work experience and internships. You can find the full discussion here. In the article below, I have compiled some of the most pertinent questions from the public with my answers to them. Please feel free to ask further questions in the Comments box below.
Q: I'm about to start my penultimate year of a BSc and looking for summer internship in finance, where should I look?
A: Majority of financial internships are advertised on the banks' websites – however, due to the fact that they are very competitive, I would advise to adopt a two-prong strategy: to network and get to know decision-makers in your target companies about 6 months before the application process commences and then apply online and use the names of the people you have met as a reference.
Q: I have retail & education experience & a BA but can't get an arts/admin internship – any tips on what to focus on?
A: I would suggest that getting to know relevant people and asking them to have a quick coffee with you is a good idea in this case as well. Also making sure that the CV is up to date and spells out clearly all your responsibilities in your previous jobs related to the area of arts/admin and also what courses you have taken during your degree and which grades you have achieved.
Q: How do I go about finding work experience from an advertising/PR agency or a newspaper? I'm under 18 so I'm finding it hard.
A: Yes, I know several people in the same situation and two girls got a two-week experience placement at a very large organisation through family acquaintances – so ask around within your close circle and perhaps they can put you in touch with a company of interest.
Q: I am a student actuary in India with membership. I'm planning to do MSc in Actuarial Management at Cass Business School this September. I want to know how and where I can apply for internship in UK during this coming year? I tried to search online but only found companies that want people who have done bachelor's from UK.
A: With regards to Cass in particular, a lot of MSc students prefer to get a spring or summer internship after they have started their Master's already. I believe this is probably the most effective way as you already have educational experience from the UK and sometimes B-schools assist their students with securing internships through during-the-year career events, presentations and networking events. So I would suggest starting your MSc and aiming to secure internships for the spring and summer term.
Q: What is your top tip for making the most of a work experience opportunity?
A:  I would say:
– do you best in terms of doing a high quality job
– get to know as many people as possible in your company
– make meaningful connections with the above people
– get some good recommendations post your work experience that you can perhaps add to LinkedIn etc.
– and of course, have fun while doing all the above!