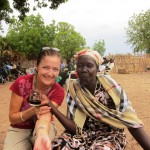 Recently I interviewed Noreen O'Gallagher, UNMISS staff (Twitter: @NOGallagher) who has worked within the United Nations for a very long time across various critical missions (the latest being in South Sudan). She has shared her experience and insights in the article below.
1. I know you have worked in the UN for a number of years in various posts – could you please share the most fascinating and most challenging aspects of the job?
The most fascinating part of working in the UN is discovering different parts of the world, not just a holiday but really getting time to experience the culture, the terrain, understanding the people and travelling to the regions with less and less infrastructure as you head out of the capital.   The sense of pride you get from feeling like your work makes a little difference to the country that has welcomed you is pretty damn special, sometimes this can take a long time but developing nations don't move at the same pace as "back home".   Also passing on skills to national colleagues and seeing them blossom in either their professionalism/ ethics / confidence has made all of my UN work worthwhile, they become soul mates and they're talented so they'll probably employ me one day.
Challenges are faced daily and like in any large organisation I have to learn to work around many bureaucratic and logistical blockages just to do one small thing, most don't make any sense at all, it is by far the most frustrating part of my work.
2. For those wishing to apply for positions within the United Nations, what three key pieces of advice can you give?
a)     Set a goal of what job you'd ideally like to do, where you'd like to work and take steps towards that goal.  Chances are that you won't start there but nonetheless you can work towards it.   Know what the job titles are – it's not good enough to know you want to work for UNICEF in Africa … narrow it down ie P2 Reports Officer, Congo and search out the skills required to be shortlisted for those posts.
b)     Spend your time when you're studying or not working to make your skills stand out.  Look at the skills required in the posts that you're interested in and start getting voluntary work/ additional training to make your CV better than all the others.  Remember fluency in a second/ third UN language is as good as a second degree, definitely not a waste of your spare time to build on language skills. If you're coming straight from university, perhaps you now have a Master's but without work experience you don't have a track record of practical application of any of your skills.  Some job descriptions or levels require that you have two years' overseas experience working for an established INGO.   Don't rule out UN Volunteer schemes, Internships to get experience and to get you a step closer to your goal, they rarely convert into actual professional positions these days however the experience obtained is irrefutable, after a hardship post you may also believe that the UN is not however what you're wanting after all. It doesn't work for everyone.   Getting into the UN can be achieved without a professional post there are many more mission support staff such as Air Operations assistants or International Consultants for IT or Budget Officers.  These can all be stepping stones to get your foot in the door.
c)     Spend the time and fill in all online application templates (www.inspira.un.org, who.int, etc). In the UN they aren't usually called CVs but PHPs (personal history profile).  They take forever to do as each organisation has its own template but then it's a couple of clicks and you can apply for multiple posts.  Look for generic postings to get cleared, such as Humanitarian Officer Multiple Duty Stations.  Be accurate with your details online, they are easily checked and Human Resources are obliged to take action which can affect your career in the future.
3. What does the interview process generally look like and what is the best way to prepare for the interview stages in order to be successful?
Regularly check the websites that you are registered for and apply for a variety of posts.  See every written test/ interview as experience in answering the type of questions and not necessarily for getting the posts, ie don't raise your expectations too high.
WRITTEN TESTS
Firstly, if you've applied and meet all the requirements for the post you may get selected for a written test which happens online.  These tests take on many different guises and are usually within a very narrow timeframe ie between tues 8am- thurs 5pm NY time.  The written exam usually is 2-3 hours and is timed from the time you open the attachment, depending on what subject you are being tested on it can be anything from multiple choice questions to summarising reports or full essay questions.   Hopefully it goes without saying that plagiarism/ getting other people to help is unacceptable behaviour anywhere/ anytime.  So preparing for your written test will depend on your selected subject, you can have web pages open that might be relevant or key documents that your subject matter is based upon.  Best advice is to not panic, get plenty of sleep beforehand and separate yourself from distractions. Timing is crucial, it's an automatic fail if it's sent back late so ensure you've checked your start time as you begin.
ORAL INTERVIEWS
A much much smaller amount of people are interviewed after the written test and can be anything from a month to 6 months later, except they don't tell you, it just comes out of the blue as an email.    I've never had a face to face interview, or even skype, mine have all been by speaker phone but some agencies can send you a ticket or expect you to be dressed up on videoconference such as skype at a time that is convenient for their panel.   Given the shear volume of people being interviewed for each post and other commitments of multiple panel members please note that there is little flexibility in the timings for interviews, so make sure you confirm receiving the instruction and that you're ready at the designated time. To recap: the initial check of your experience tells the UN that you have the qualifications for the post/ level and written interviews tell them that you have the required competency to complete the work that is required.  Interviews ARE NOT going to ask you about your degrees and you're not listing your previous jobs, they have all that already.   Oral interviews are usually competency based style of questioning, which is a Human Resources way of telling that you are type of person that fits into the UN type, for example: to show that you respect diversity you may be asked a question such as "explain in detail of a time where there was a difference in opinion with your team at work and how you resolved it?"  This type of questioning can be tricky but also with a little practice you can become an expert.  Remember they are generally panel interview which can have 3 – 6 people firing questions at you with many different accents.
So how do you prepare for an oral interview?  Well it's actually quite simple….. look at the vacancy announcement again and under  the heading "Competencies" they list what they are specifically looking for on this job vacancy ie Professionalism; Communication; Planning and Organising; Client Orientation.  These will be the headings that your questions will come under.   Remember it's okay to be proud of your achievements but not okay to work in isolation at the cost of your team, it's just up to you to give clear concise answers/stories that reflect that you're shining at these competencies in your everyday working environment.   Generally they want real examples of real events, not what you would do but what you did and please keep them short so you get to your point/ complete your story/ punchline… you'll feel sick afterwards if you get cut off each time due to time constraints and they move on without you having got to your ending.   Speak slowly and clearly as close to the mouthpiece as possible and please if you don't hear a question clearly you have every right to ask for the person to repeat it.  Also note that if a job is in a country where another language other than English is spoken they may actually ask a question in one of the UN key languages if it's relevant.  If the job is advertised in English only they may just want to know if you have the local language to compare their final selection, as it always helps in the post even if not directly needed.
If you cover all the required competencies in the oral interview but maybe you arent selected there is a chance that you can be cleared for the roster for that level and that post title/ family.   FCRB stands for Field Central Review Board which is essentially passing all the levels above and this puts you on the roster if the job application is for a full job – note though this excludes temporary/ consultancy positions.  There is an official email that confirms registration onto a roster but again this can take any amount of time after the interview, be patient nothing usually happens quickly for recruitment.
4. What is the key to your success and promotion within the organisation for so many years?
I have to say that everyone will have their own particular analysis of their own degree of success, no two people would be the same.  I was asked a question by a good friend who i've worked alongside now in two missions "what would be my ultimate dream work goal / level in the UN?"  My answer surprised her immensely:  "Getting into the  UN was my dream so i achieved my goal on my first day in the job".  I really enjoyed my years as a UN Volunteer in both East Timor and Haiti, perhaps even my best working years of my life, this has always been my dream job so my satisfaction was always complete from day one.There are many ways to get ahead but my mantra has always been to work hard and achieve as much as possible, I don't wait to be asked but just get ahead preparing anyway.    Think outside the box when required and work towards getting a good appraisal through meeting specified goals alongside your team.
5. What qualities does the UN management look for in aspiring candidates?
All the UN core/ selected competencies as i mentioned above which can be found on each Vacancy Announcement for the post.  Confidence & clarity comes across in phone interviews and the panel having a pleasant interview with you will reflect positively when they summarise your skills together after your interview.
To to finish remember to apply for jobs that can lead to your goal, especially generic postings, even if you don't want to take them to get FCRB roster clearance.  Try to get cleared for as many posts and levels as possible, this gives you more opportunities.   Don't aim too high at first, but good luck in your endeavours.